Prof. Nikos Hadjichristidis, Distinguished Professor of Chemical Science at KAUST, has been named a Fellow of the Royal Society of Chemistry (RSC) – a recognition that is testament to the immense contributions he has made to the field of polymer chemistry for a prolonged period. The RSC is the United Kingdom's professional body for chemists, and the largest organization in Europe for advancing the chemical sciences. I moved this up to immediately give context about the organization instead of waiting until later.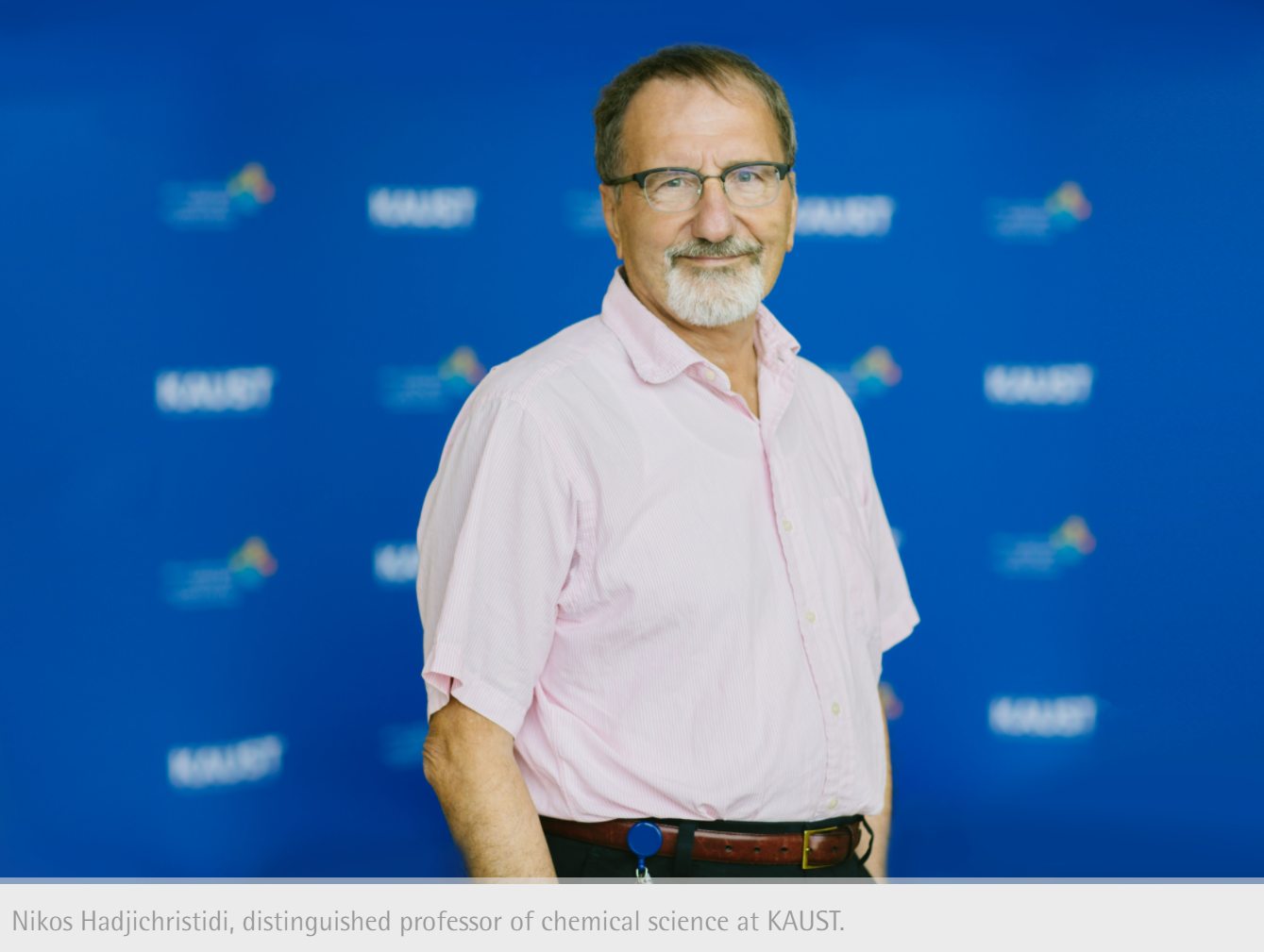 "I have been working in polymers for more than 50 years," Hadjichristidis said. "My love for chemistry stems from my youth. When I was a student at the University of Athens, Greece, I had a lab in my house. My parents and siblings took issue with it because I was prone to having the occasional accident, but I was so fascinated by organic chemistry."
This ingrained passion has stuck with Hadjichristidis ever since, propelling a remarkable career.
He spent his early years in academia at the University of Athens in Greece, University of Liege in Belgium, National Research Council of Canada, and University of Akron in the USA, starting out as an undergraduate specializing in chemistry in 1966, a graduate specializing in polymers in 1971, and a postdoctoral fellow 1971–1973.
He went on to become a member of the Polymer Division of American Chemical Society in 1977; an honorary member of the Greek Chemical Engineer Society in 1990; and a member of the Polymeric Materials Science and Engineering Division in 2001.
Furthermore, he was the founder and president of the Greek Polymer Society between 1984-2010, and founding member and president of the European Polymer Federation between 1995-1996.
Realizing a dream
Hadjichristidis arrived at King Abdullah University of Science and Technology in 2011 with the goal of building a globally renowned polymer synthesis laboratory, a mission previously achieved during his time at the University of Athens.
"My passion for polymers is simple – they're everywhere, and a fundamental part of nature," the professor said. "From natural DNA and proteins in our bodies to plant cellulose to clothes, tables, computer screens … everything around us contains either natural or synthetic polymers. The possibilities are immense."
In the decade since arriving at KAUST, Prof. Hadjichristidis has helped to develop the only lab in the world capable of combining almost all methods of polymerization (anionic, polyhomologation, C3, C5, ring-opening, ring-opening metathesis, atom-transfer radical, reversible addition−fragmentation chain-transfer, iodine-transfer, etc.) to make unique polymers with different structures (star, comb, dendritic, cyclic, 8-shaped, tadpole, etc.). These polymers are ideal models for checking the theory, understanding/improving the performance of industrial polymers, and are potential candidates for high-tech applications (e.g., vitrimers, nanolithography, high-temperature membranes, and drug delivery).
In terms of research, much of his time is spent on the synthesis of model polymers with different macromolecular architectures (macromolecular engineering), focusing on those that have well-defined complex macromolecular architectures. These studies are key to improving the performance of industrial polymers such as polyethylene, as well as designing new materials.
However, it is notonly his research that Hajichristidis is passionate about.
"Every year I have about 10 Ph.D. and MSc students, and seven or eight postdoctoral fellows, all of whom are Saudi nationals," Hadjichristidis said. "This is core to my philosophy, to not only help the university but to also help Saudi Arabia. Together, we pursue projects in macromolecular engineering that help meet pressing global needs. There is currently a massive need to create sustainable materials, for example, so my group and I are focused on contributing to this area."
Adding to a host of esteemed awards
Contributions both within and outside of KAUST have resulted in Hadjichristidis receiving a host of esteemed awards. In the past decade, these recognitions have included:
Fellow of the Royal Society of Chemistry, 2022
The Hermann F. Mark Medal for Polymers, Austria, 2020
The University of Athens, Department of Chemistry Award of Excellence for outstanding contribution to Research, Mentoring, Teaching and Administration in Chemistry in Greece, 2018
Macro Group United Kingdom Medal for Outstanding Achievement, UK, 2016
American Chemical Society National Award for Polymer Chemistry, USA, 2015
Fellow of American Chemical Society, Division of Polymer Chemistry, USA, 2014
This latest designation as Fellow of the Royal Society of Chemistry (FRSC) is given to elected individuals that have made outstanding contributions to the advancement of chemical sciences or the advancement of the chemical sciences as a profession.
"It is an honor to be recognized for my work by way of the FRSC," Hadjichristidis affirmed." Of course, it doesn't belong to me, but all my students and colleagues that have been working with me. It's testament to their courage in continuing to try to solve difficult problems in this field. At KAUST, we have all the necessary backing, support and infrastructure to conduct excellent work. We are not restricted or limited and have the freedom to pursue our ideas, which is critically important."
Professor Hadjichristidis concluded that "nothing would be possible without the support and help of my wife Dina, Ph.D. in organic chemistry, who passed away in October 2013."
https://www.kaust.edu.sa/en/news/prof-nikos-hadjichristidis-named-a-fellow-of-the-royal-society-of-chemistry